Jean Sibelius' tone-poem, Finlandia, wasn't supposed to be the program headliner one recent Saturday night at the San Francisco Symphony. The main draw was the Sibelius Violin Concerto, gracefully and sensitively rendered by Latvian violinist Baiba Skride, with Finnish guest conductor Osmö Vänskä leading the orchestra. Vänskä, music director of the Minnesota Orchestra—they of the Great Lockout of 2012-14 infamy—literally staked his position on turning said orchestra into one of the country's finest, resigning in protest in the later months of the lockout, only to be rehired the following April (good call), where he now continues, with the Minnesota Orchestra, to excel and produce world-class music. Particularly impressive are Vänskä's Sibelius interpretations. No surprise, perhaps, as both hail from Finland and both have captured, in the music, the nuance, proud spirit and dignity of this Nordic country. And no piece conjures a sense of Finnish national pride more so than Sibelius' Finlandia, a patriotic tone-poem, the seventh of seven tableaux written in 1899 and revised a year later. Coming in at eight-ish minutes (can be up to nine), it's short. The first part delivers a brooding fanfare of horns, rumbling timpani, depicting menace, oppression that, indeed, was part of Finland's history, through occupations by Sweden and then Russia, into the early 20th century. The middle part of Finlandia calls in strings and woodwinds, a gentler but no less affecting sound, before the piece really ramps into high gear. It becomes propulsive and spirited, with plenty of crashing cymbals and an increase in speed and intensity from the entire orchestra. And now, at its peak, comes the melody, slow and majestic, instantly timeless and memorable.
I'm going to use the words of my character, Rebecca, from Outside the Limelight to describe it, because she does a better job with it than I. At a party she's attending, she mentions to a group that she'd recently analyzed a classical music excerpt by Emily Howell in a college aesthetics class. (Hint: Emily Howell is not a female composer but a computer program that composes original classical music.)
"So, you listened to some of the music?" the man asked.
"I did," she said. "We compared it to two other excerpts, traditional compositions."
"Composed by…?"
"Bach. Jean Sibelius."
"Good, good." The man nodded. "So, what was your verdict?"
The Emily Howell composition had pleasantly surprised her, a flood of arpeggiated piano notes hovering around a melodic theme, like something Chopin or Scriabin might have composed. The Bach had been lovely and precise, like music meets mathematics. It was the Sibelius, however, that had stirred her with its rich textures and sonorities and, paradoxically, its simplicity. There were far less notes. The melody was not complex. But the horns' mournful call, the way they sustained one of their notes against the melody, clinging, holding on, had been the most vivid aural depiction of love, fealty and longing she'd ever heard. It had made her throat contract, her eyes sting.
"I preferred the Sibelius," she told the man.
"Why?"
"Well, it had… humanity. It was art and evoked true emotion. Next to it, the Howell seemed like just a clever, agreeable arrangements of notes."
"What kind of emotion did it evoke?"
Across the room, she saw Anders, smiling, engrossed in what the beautiful woman across from him was saying. Her heart gave a twist.
"Longing," she said.
"But how was this 'longing' portrayed in the music?" the man persisted. "I'm guessing a minor key, dissonance of two notes, followed by resolution. A solo violin, or maybe a clarinet, a French horn. Am I right?"
"You are," she admitted.
"So. You teach this rule to the program, which will go on to analyze the scores of any music that is considered soul-stirring, and it will find patterns. It learns to add that dissonance, a little rubato to stretch it out, or the call of a horn, and voilà, you've got longing."
She hated this thought. Hated it. "No," she protested, "that doesn't cover it. Longing didn't come from the instruments or the notes, it came from the man, the human composing it. I'm sure of it. Longing fills a human, it permeates their world. How could a computer experience longing or shortcomings of any type? Nothing is unattainable for a computer. You can just feed it more data." The thoughts and words tumbled out. "Creating art requires feeling pain, having a soul that's crammed with complex emotions that have nowhere to go but into your art. A computer can cleverly simulate art. Nothing more. Otherwise, what's the point of being human, of harboring all that pain?"
This new thought hit her, cut into her so sharply, it made her want to cry, for a half-dozen reasons, most of them hazy and undefined, but so real, so painfully real. She knew, beyond a doubt, that Sibelius had reached from deep within his own heart, his soul, to produce this work. The simple melody was anything but simple. It evoked, in a mere handful of notes, the patriotic cry of a country's freedom.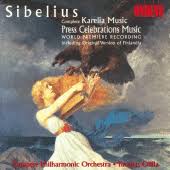 Sibelius had written the piece, initially entitled "Finland Awakes," part of his Press Celebration Music suite, for an event, a covert political rally of sorts to protest Russia's increasing censorship and other punitive measures against Finland, an "autonomous" region of the Empire. It was an instant hit. In 1900 he revised, making the seventh piece stand alone and renaming it Finlandia. Its popularity grew in leaps and bounds, particularly when the fledgling Helsinki Philharmonic, eighteen months old, took it with them on their first European tour. Suddenly the world knew about Sibelius, Finlandia, and Finnish national pride. The Russians, of course, hated this, and did their best to censor performances of Finlandia. Story has it, the Finns got sneaky and gave the piece alternative names at future performances, like, "Happy Feelings at the Awakening of Finnish Spring," and "A Scandinavian Choral March. The correlating hymn, too, had become a big deal. Huge. Sibelius had taken the piece's slower melody and made it a choral hymn — although the more popular words were written in 1941 by Veikko Antero Koskenniemi. It became the patriotic cry of a nation. It defined the voice of Finland that emerged in December, 1917, when the Finnish parliament finally declared independence from Russia. It is second in importance in Finland only to the country's national anthem, "Maamme." (Some still would like to see it become the national anthem.)
December 6, 2017 marks Finland's centennial. I can think of no better way to honor such an event than to share Finlandia with the world.
This is my favorite version of the choral hymn. It makes tears rise in my throat every time I watch it (and I'm going on a dozen times at this point). That nationalism can be expressed with such beautiful song, is just one more reason why Finland impresses me to no end. (Second: tied for highest literacy rate in the world at 100%. Third: most engaged, informed, prolific classical music audience in the world. Fourth: one of the highest functioning welfare systems and lowest infant mortality rates in the world. Fifth: the best front row seat for viewing the Northern Lights.)
Want to know the words? Here you go! (And if WordPress' auto-correct made a mess of the Finnish text, apologies to all my Finnish readers out there! Let me know and I'll fix.)
Oi Suomi, katso, sinun päiväs koittaa
Yön uhka karkoitettu on jo pois
Ja aamun kiuru kirkkaudessa soittaa
Kuin itse taivahan kansi sois
Yön vallat aamun valkeus jo voittaa
Sun päiväs koittaa, Oi synnyinmaa
Oi nouse Suomi, nosta korkealle
Pääs seppelöimä suurten muistojen
Oi nouse Suomi, näytit maailmalle
Sä että karkoitit orjuuden
Ja ettet taipunut sä sorron alle
On aamus alkanut
Oi Synnyinmaa
Here is the English translation, although a translation never gets quite to the heart of the piece, so I'd recommend you master the Finnish language and read it that manner. Because, hey, the Finnish language looks so intuitive and translatable, doesn't it? Kinda like Basque. Easy-peasy!
Finland, behold, thy daylight now is dawning,
the threat of night has now been driven away.
The skylark calls across the light of morning,
the blue of heaven lets it have its way,
and now the day the powers of night is scorning:
thy daylight dawns, O Finland of ours!
Finland, arise, and raise towards the highest
thy head now crowned with mighty memory.
Finland, arise, for to the world thou criest
that thou hast thrown off thy slavery,
beneath oppression's yoke thou never liest.
Thy morning's come, O Finland of ours!
And now, I offer to you the full version (coming in at nine minutes, so a little more deliberate pacing), which also provides a film tour of Finland and its staggering natural beauty. (But warning, the cute little animals and birds kind of kill the mood of "we, the oppressed, must struggle or die trying" patriotic fervor. Now it's more like a Nature episode. But a gorgeous one, I might add!)
PS: Happy Centennial, Finland!
PPS: Want to hear the original Press Celebration Music suite? In truth, it's pretty cool, because, for you Sibelius fans such as myself, there's some new music in there that hints at what he will produce further down the road. And there's a pretty nifty slide show that depicts different historical scenes for each tableau, which are, themselves, intended as historical episodes. Further, you can hear the original 1899 first ending.