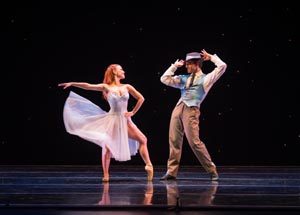 There is something distinctly fresh and contemporary going on at Smuin right now, beautifully apparent in their 24th season opening program, "Dance Series 01." The company, led by artistic director Celia Fushille, was subtly rebranded in 2016, incorporating "contemporary" in their title to emphasize their mission, to present work that melds classical ballet and contemporary dance. Smuin's collaboration with inventive choreographers offers an experience of contemporary ballet that is entertaining, evocative, and original. Case in point: the West Coast premiere of Annabelle Lopez Ochoa's impressive 2009 "Requiem for a Rose."
Saturday afternoon's mixed-bill program in San Francisco opened with the return of Garrett Ammon's effervescent Serenade for Strings, another dose of the inventive and contemporary, a 2013 ballet set on Smuin dancers in 2014. Ammon, acclaimed choreographer and artistic director of Denver-based Wonderbound, likes to blend tradition with adventurous new ideas, and here, has set his work to the music of Tchaikovsky's Serenade for Strings, best known for its accompaniment to Balanchine's legendary Serenade (1934). Adventurous, indeed. Happily, it works. Brisk, flowing movements and classical lines are interspersed with flexed wrists, ankles, jazzy head bobbles. Costumes, designed by Rachael Kras, add to the piece's lighthearted nature, with the females sporting mint-green bodices and short skirts fluffed up with layers of petticoat-meets-tulle. They looked as adorable as dolls. The men, in trousers and untucked button-downs, appeared both relaxed and energized. Gorgeous arabesques, strong footwork and assured partner work came from the entire ensemble, which, on Saturday afternoon, included Tessa Barbour, Robert Kretz, Valerie Harmon, Dustin James, Erin Yarbrough-Powell, Rex Wheeler, Lauren Pschirrer, company newcomer Oliver-Paul Adams, Mengjun Chen and Erica Chipp-Adams.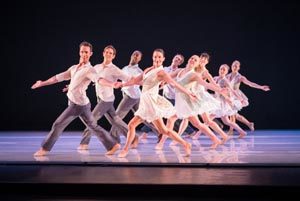 The stunning "Requiem for a Rose" was the program's centerpiece, literally and figuratively. Created in 2009 for the Pennsylvania Ballet, the work opens as a lone woman (Erica Felsch), a Venus figure, stands under a spotlight, center stage, bent from the waist, her long, flowing hair a pale curtain, a flesh-colored leotard rendering her nude [looking] and vulnerable. A tremor shakes her inert body and soon she moves to the sounds of an electronic pulse, a heartbeat, punctuated by pizzicato twangs of a plucked stringed instrument. Slowly she straightens to reveal a red rose against her mouth, the stem clenched between her teeth — one that would stay right there, through the curtain call. The image was unforgettable. Her ensuing movements remained stark, angular, arching. The boom-boom of the electronic heartbeat increased in speed and fervor, until soon a half-dozen men joined her onstage, circling her. Bare from the waist up, they sported full, red skirts, marvelously designed by Tatyana Van Waslum, like petals of a rose, flowing fabric that undulated and created waves when they turned. Six similarly clad females (wearing flesh-colored leotards in lieu of bare chests) joined them to complete the image of a full bouquet of red roses.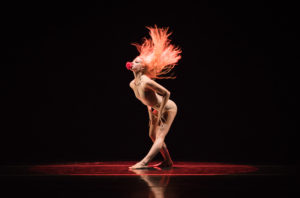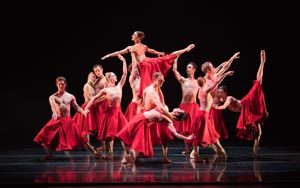 The Colombian-Belgian Ochoa is a masterful, innovative choreographer who has created nearly fifty dance works for companies worldwide, including Dutch National Ballet, Atlanta Ballet, New York City Ballet, The Royal Ballet of Flanders, Pacific Northwest Ballet, Ballet Nacional de Cuba. (Bay Area audiences will get to see new commissioned work this spring in San Francisco Ballet's 2018 "Unbound: A Festival of New Works.") European trained and Netherlands-based, Ochoa's choreography, accordingly, delivers movements both classical-infused and abstract. Particularly satisfying to watch were the big, luxuriant port de bras, cambrés back, pirouettes and leaps from the dancers. Occasionally passages came to a halt with a squared-off elbow, arm gesture, a propulsive movement, that seemed to insist "not classical." Legato stretches within movements lent an uncluttered, spacious feeling to it all. The music, too, the adagio from Schubert's Quintet in C-Major, was lush, full of space, and romantic possibilities. Indeed, Ochoa, chose this music because she found it to be "the most romantic music I know."
"Requiem for a Rose," according to Ochoa, strives to highlight the differences between romance and love, the former, elegant, easy, the latter, raw, angular. The lone, vulnerable female with the red rose in her mouth is a metaphor for real love. Roses, of course, are vivid and romantic. But roses die, and the red-skirted dancers at one point sway forward, bending over, a sort of wave, hand over heart, a hesitation. Throughout, Tony Tucci's lighting (Michael Oesch's adaption for Smuin) lent the piece further theatricality. Ochoa also creates for theatre, opera, and fashion events, and it shows, in all good ways. The opening scene had been like living art. The colors, the contrasts, the textures, the sounds; days later, it, and Felsch's compelling performance, still haunt me.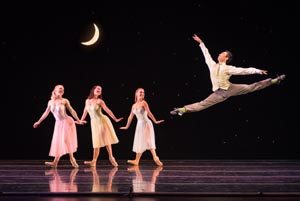 Concluding the program was the late Michael Smuin's Fly Me to the Moon, a ballet that eschews innovation in favor of nostalgia. It's a fun, light-hearted romp through a string of Sinatra classics, against a dark backdrop that alternates with stars and a crescent moon. While some of the vignettes are starting to feel a bit dated, costumes continue to hit the right mark, both nostalgic and contemporary. The men wore slacks, fedoras, and their vests matched the women's diaphanous skirts and bodices in pastel colors, Highlights for me included "I Won't Dance" (Tessa Barbour, Benjamin Warner), "Moonlight Serenade" (Jonathan Powell, Erica Felsch) and Robert Kretz' solo, set to "That's Life." Mengjun Chen and Dustin James danced notably well through the program, and Valerie Harmon's bright smile shone throughout. The entire ensemble dazzled in the closing, "New York, New York." It was very signature Smuin; it made my throat tighten, as if Smuin's spirit had descended to enjoy it along with us. At the ballet's conclusion, several members of the audience leapt up to give the dancers a standing ovation, and you could tell it was equally for the memory of the man and his considerable legacy.
Dance Series 01 runs until Oct 7 at the Palace of Fine Arts in San Francisco. It will also be presented in February and March 2018 in Mountain View and Carmel.
© 2017 Terez Rose