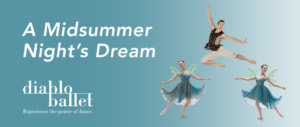 Diablo Ballet closes out its 2022-23 season this weekend, May 26 and 27, with a winner: a brand-new, charming comedy, A Midsummer Night's Dream. Choreographed by Julia Adam, it features Mendelssohn's iconic music, and costumes designed and constructed by Christopher Dunn, with assistance from Amanda Farris. It's a world premiere that, Diablo Ballet promises, "will delight your senses and tickle your funny bone."
I adore this boutique ballet company, guided by artistic director and co-founder Lauren Jonas for nearly three decades, for the way it delivers excellent, innovative dance and solid programming year after year. I've written about them and their productions, a few of which you can find HERE and HERE.
An article in Pointe magazine features Diablo Ballet's forthcoming production in an interviewer with Julia Adam, a San Francisco–based choreographer and former San Francisco Ballet principal. Adam and Jonas have collaborated on several ballets for the company for over a decade. I particularly enjoyed her Once Upon A Time, a full-length ballet I caught during the company's 25th season and reviewed HERE.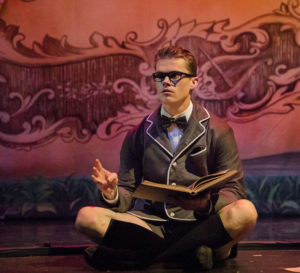 For this newest production, Adam has employed excerpts from Mendelssohn's iconic score to create a ballet that runs a total of 35 minutes, which she discussed in her interview with Pointe magazine.
"Fleshing out the complex libretto and its parallel worlds of fairies and mortals is like a chess game. You've got the wedding, the two confused couples, Titania and Oberon's silly fight, and a whole lot of trickery. But the Mendelssohn score, for me, pretty much lays it out perfectly."
You can read the rest of the Pointe magazine article HERE.
For my classical-music readers' ears, here's the overture to Mendelssohn's A Midsummer Night's Dream, which he composed in 1826 at the tender age of 17. (In 1843, he wrote the rest, as incidental music for the play.) On a whimsical Classical Girl aside, Mendelssohn's A Midsummer Night's Dream was one of a dozen cassette recordings I brought with me on my two-year Peace Corps stint in Africa, back in the '80s. Yup, 12 cassettes for two years—you can bet that recording got in a lot of listening time. And yet I never got sick of it. Win!
But back to Diablo Ballet. Additionally, in this final program of the 2022-23 season, will be the premiere of Such Longing by British choreographer Sir Richard Alston, set to one of Chopin's Mazurkas (Op 17, no. 4) and his Nocturnes (Op 27, no. 2), performed live by pianist Aileen Chanco. The program also includes an encore presentation of the breathtaking Orange by Houston Ballet's artistic director, Stanton Welch, and the romantic duet from Encores choreographed by Diablo Ballet's artistic advisor, Sally Streets.
This season, Diablo bids farewell to company dancer Michael Wells, who will take his last bow on Saturday night. He's been a wonderful dancer to watch (he was the lead role in the above referenced Once Upon A Time) and I'm happy to learn that he will continue with Diablo Ballet behind the scenes as a choreographer and rehearsal assistant.
You can purchase tickets by clicking HERE or visiting Diablo Ballet's website.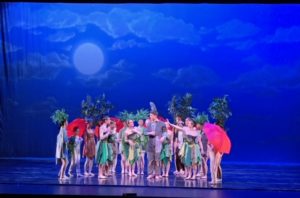 Julia Adam's A Midsummer Night's Dream, world premiere
Where?
Lesher Center for the Performing Arts, Walnut Creek, CA
When?
Friday May 26, 7:30 pm
Saturday May 27, 2 pm
Saturday May 27, 7:30 pm
Why?
Because it's a holiday weekend and you deserve some extra fun and you'll find it, and more, in a Diablo Ballet production.
I can't make it to the live performances but I really want to see this production — what can I do?
Aha! Diablo Ballet has thought of that!
Virtual performances, a recording of the live performance, will be available for viewing June 2 – 11, 2023. By purchasing a household ticket, you can watch the performance as many times as you like, whenever you like within those 10 days. For tickets, click HERE.