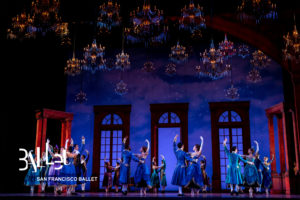 Question: what makes choreographer Christopher Wheeldon's stunning ballet, Cinderella, come so magically alive onstage?
Answer: it's everything. The scrim that gives the prologue a dreamy, cinematic feel. The four benevolent Fates who blend into the shadows. Prokofiev's affecting music. Wheeldon's choreography. The really, really good dancers. The tree that sprouts from Cinderella's tears at her mother's gravesite, which buds and flourishes before our eyes. Fat white clouds that float through a blue sky as birds dart past. Carriages that fly through the air. Chairs that float. Dreams that come true.
Yup. Magic.
Last Friday, Wheeldon's Cinderella returned to San Francisco's War Memorial Opera House. I love this production, a 2012 co-commission by Dutch National Ballet and San Francisco Ballet, and boy, did it deliver on Friday night. Credit is due not just to Wheeldon and his choreography (and Prokofiev's stunning score) but to the creative team Wheeldon assembled for this production. Scenic and costume design are the work of Tony Award-winner Julian Crouch. Natasha Katz provided lighting design, Daniel Brodie, projection design, and puppeteer Basil Twist delivered Tree and Carriage Sequence design and direction. Together, the team makes magic come alive.
My favorite characters, the four masked Fates, operate as an ingenious alternate to the fairy-godmother motif. They don't just show up to offer Cinderella a ballgown, an invitation and a carriage; they inhabit the entire story, bringing support and solace to her through her days, at times literally lifting her up above the drudgery of her existence. Clad in dark blue costumes and gold face masks, fading in and out of the shadows, they whirl and move as a whole, to stunning effect. Composer Sergei Prokofiev assigned musical motifs to each character (reminding me that this is the composer who gave us "Peter and the Wolf") and theirs, the "fairy godmother" motif, is the sweetest, most hope-filled melody line imaginable. On Friday night, Daniel Deivison-Oliveira, Steven Morse, Alexander Reneff-Olson and John-Paul Simoens were simply perfect in the role.
The enormous tree that grows from Cinderella's tears is more visual magic. What's so clever is that, later, you get the sense the mature tree's limbs are gently swaying, the leaves shimmering (courtesy of Brodie's projection artistry). Later, just before the ball, the Fates and the ensemble of dancers help create a coach (Basil Twist's artistry at work here) that flies through the air, the train of Cinderella's dress billowing behind her. It's so realistic-looking (with the help of a scrim that filters out technical detail), so stunning, you can't believe your eyes.
You'd have thought Act I's visual delights couldn't be topped, but then the lights come up on Act II, in the palace ballroom, to reveal servants lighting candles on a dozen-ish chandeliers,  before the chandeliers rise high above the stage, and the dancers pour in, men from stage right, women from stage left, and in the blink of an eye, the stage is filled with waltzing dancers, and the women's 19th century ballgowns costumes, men in matching coats and tails, are vivid and gorgeous, in swirling royal blue, teal, purple. It's stunning.
A close second in "favorite characters" would be Cinderella's stepmother and stepsisters. On Friday night, as stepmother Hortensia, Jennifer Stahl was alternately cruel, calculating, and funny as hell. The same goes for stepsisters Clementine and Edwina (Ellen Rose Hummel and Elizabeth Powell). The former is nerdy, mild-mannered and kind (enough) to Cinderella, and the latter is the traditional stepsister bitch. But it's the humor you remember long after the performance, the way they strive to dance beautifully and the end result is not beautiful, it's quite horrible, in a delicious way that points again to Wheeldon's choreographic genius. The sisters' pas de deux, later at the ball, is exquisitely good in its artful awkwardness. The same goes for Hortensia at the ball, upstaged by the grandeur, pride wounded, who opts to get sloppy drunk and becomes that much more wince-worthy to watch.
Then there was Misa Kuranaga as Cinderella on Friday night, partnered with Isaac Hernandez as Prince Guillaume. Theirs was a highly satisfying performance, replete with great chemistry, fine acting, technical precision that delivered impeccable leaps, turns, fish dives, and great overhead lifts. Really, it was flawless, and lots of fun to watch.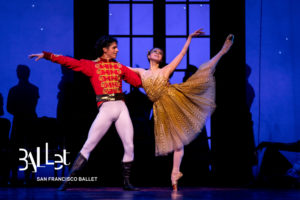 Lucky me, I got to attend the next day's matinee performance as well, which allowed me to watch a new cast of dancers take on the big roles. And they did not disappoint. Dancers that made a "wow" impression included Elizabeth Mateer as Hortensia, Kamryn Baldwin as Edwina, and Rubén Cítores Nieto, Luca Ferrò, Jacob Seltzer, Alexis Francisco Valdes as the Fates. Jasmine Jimison, charming and funny as Clementine, seems to be everywhere this season, tackling ever bigger roles, and it's my guess that a promotion to principal is forthcoming. Mateer is always good at acting roles, but it was my first chance to see Baldwin in such a role, and she was wonderful. All shone just as brightly their opening-night counterparts.
Another dancer being given a Really Big Chance on Saturday afternoon was Isabella DeVivo, as Cinderella, who delivered an impressive performance in her first lead role in a full-length ballet. She was lyrical, technically solid, and wholly believable. In fact, she brought something to the role that even Misa Kuranaga, in her stellar performance on Friday, couldn't: a youthful humbleness, even uncertainty, at this grand opportunity to shine at the ball. Joseph Walsh, the afternoon's Prince Guillaume, is a prince of a partner, great actor, great dancer, and helped DeVivo shine even brighter.
There was this Perfect Moment when Cinderella arrived at the ball, the guests were peeled away (another genius choreographic flourish) to expose Cinderella standing alone, lovely, tentative, in this glorious golden-yellow dress. Across the stage, Walsh's Prince Guillaume was equally affecting to observe, with his alert, something big is happening to me stillness. It was a moment accompanied by glorious music, and we can't rave about Prokofiev's stunning score without raving about the San Francisco Ballet Orchestra (led by music director Martin West on Friday night and Ming Luke on Saturday afternoon). They are as good as live orchestral music gets. (And I'm a longtime San Francisco Symphony subscriber.)
I could go on and on about the excellent dancing, the charming moments, the dozens of clever details that delight the audience. This production is chock-full of whimsical contributions: 16 chairs that slowly rise and arc over the stage in a graceful, eerie dance of their own; Act III's hilarious lineup of sixteen seated females of mixed species – gnomes, princesses, weird, unnamable beings, feathered, beaky bird-women – all eager to try on the golden slipper for size. It's not a short production, clocking in at 2 ½ hours with two intermissions, but the time flies. It's a production for all ages, filled with magic and charm. Find a way to go see it.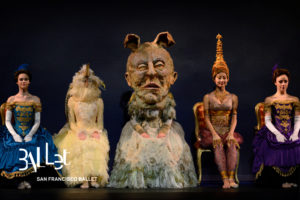 Tickets start at $29 and can be purchased online at sfballet.org or by calling 415-865-2000, Monday through Friday from 10 am to 4 pm Pacific.
The production runs through Sat, April 8. Here are specifics:
Tuesday, April 4, 2023 at 7:30 pm
Wednesday, April 5, 2023 at 7:30 pm
Thursday, April 6, 2023 at 7:30 pm
Friday, April 7, 2023 at 8 pm
Saturday, April 8, 2023 at 2 and 8 pm