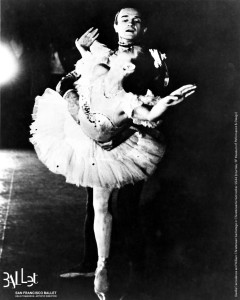 Willem Christensen and Gisella Caccialanza, 1944
It hadn't been intended as a "timeless holiday classic," that first year, on Christmas Eve day, 1944, when Willem Christensen, artistic director of the fledgling San Francisco Ballet, presented to audiences his complete, two-act Nutcracker production. He'd known he was doing something relatively new. The only other complete Nutcracker ballet outside Russia had been in London by the Vic-Wells Ballet (a pre-precursor to the Royal Ballet) in 1934. The Ballet Russe of Monte Carlo, an offshoot from the disbanded Ballets Russes, had been touring its own one-act "Nutcracker Suite" production since 1940, but not with any holiday theme in mind. Christensen wanted the full works. He met up with two Ballet Russe luminaries during one of their San Francisco stops: George Balanchine, ballet master, and ballerina Alexandra Danilova. The three of them sat and Christensen listened as the Russians talked about the original two-act Mariinsky production, the specific details they remembered from past productions, what had made it magical. Christensen voiced his own ideas and the two Russians nodded, smiled, and offered the Russian equivalent of "dude, go for it."
So he did.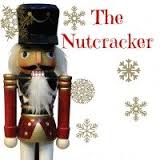 The 1944 production was a labor of love and a collaborative effort involving all the San Francisco Ballet dancers and staff. A $1000 budget had to stretch across all cost, including Antonio Sotomayor's scenic design, Russell Hartley's costume design, and 143 costumes. Since it was wartime and material for making clothes [much less costumes] was rationed, the dancers helped by standing in long lines to purchase the allocated 10-yard lengths of fabric. At a Goodwill store, Russell Hartley discovered a treasure: red velvet stage curtains from San Francisco's closed-down Cort Theatre that the company bought and fashioned into Act 1 costumes. (The remaining fabric would go on to produce red velvet costumes for another ten years.)
Gisella Cassialanza Christesen, wife of Lew Christensen (then serving in the army, but who would come back and help run the company, taking over as artistic director) and the production's Sugar Plum Fairy, shared these amusing impressions. "Onna White helped me make my costume, which was really awful. We made our own tights then too. They weren't like tights worn today. We had to sew our stockings onto little pants to make tights and, like old-style tights, they'd bag out and wouldn't bounce back and cling to your legs. We sewed pennies or nickels to the waistbands so we'd have something to grab onto to yank up the tights.  You couldn't practice pliés or anything before a performance or else you'd be standing there with baggy knees when the curtain came up."*
They did it, these determined, talented dancers, carrying armfuls of costumes across the street to the theater on Christmas Eve day, 1944, for a matinee performance of America's first full-length Nutcracker Ballet. The performance was a rousing hit. And oh, what a holiday classic they started. (It was, in truth, Balanchine's own full-length production, ten years later, that would really set the ball rolling in the U.S., and funding for the arts in the 1970's even more so, but why spoil the pretty story here?)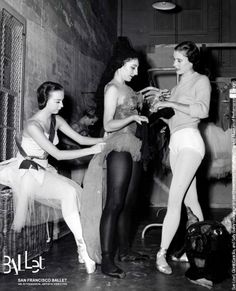 SFB dancers Sue Loyd, Gloria Canicilla, and Sally Bailey (year?)
Here's a fun archival photo: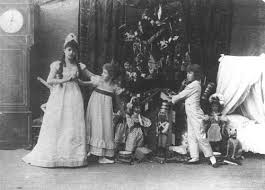 The true first Nutcracker ballet. Imperial Mariinski Theatre, St. Petersburg, Russia, 1892
Fast forward 122 years, to 2014. This year, the San Francisco Ballet's Nutcracker is notable for another reason: it's the ten-year anniversary of San Francisco Ballet artistic director Helgi Tomasson's current production. (Tomasson, BTW, took over as artistic director after the death of aforementioned, long-time artistic director Lew Christensen.) Here, we get a distinctly San Francisco version of the holiday classic. It's set in 1915 San Francisco, during the time of the Panama Pacific Exposition, which helped celebrate the city's rise from the ashes after the devastating 1906 earthquake and fire. In this version of the story, Clara is an adolescent, on the cusp of awakening to the adult world around her. It lends an elegance and sophistication to the story that serves it well. I'm crazy about the production; the quality of dance and the set (Michael Yeargan) and costumes (Martin Pakledinaz) is unparalleled. You can read my review of the opening night performance here: http://us.bachtrack.com/review-nutcracker-san-francisco-ballet-war-memorial-opera-house-san-francisco-december-2014.
Kudos to all the wonderful dancers on Friday night, particularly Ricardo Bustamante, Max Cauthorn, Sean Orza, Mathilde Froustey,  Dores André, Yuan Yuan Tan and Luke Ingham. Oh, heck, ALL the Act II soloists: Lee Alex Meyer-Lorey, Gaetano Amico, Sean Bennet, Steven Morse joining Dores André in the Spanish dance. Dana Genshaft, Daniel Deivison-Oliveira, Anthony Spaulding in Arabian; Francisco Mumgamba in Chinese; Kristina Lind, Jennifer Stahl, WanTing Zhao in French; Hansuke Yamamoto, Esteban Hernandez, Wei Wang in Russian. And Act 1's Snow Queen and King, Vanessa Zahorian and Taras Domitro.
What a show you all put on. Willem Christensen would be so proud.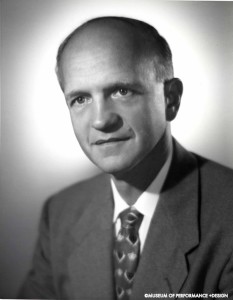 * Text courtesy of San Francisco Ballet's fact sheet and archives.
PS: Looking for more recent and/or specific dance reviews? You can find all those links HERE