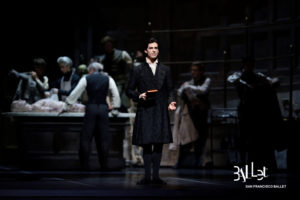 It was the perfect setting, weather-wise, for attending San Francisco Ballet's Frankenstein last Saturday night, following Friday's North American premiere of this co-commission with the Royal Ballet. Storm clouds scudded over the darkened February skies, recent rains abated, an uneasy truce between storms that you knew would not last. Frankenstein weather. Something big was about to happen.
People tend to draw their Frankenstein acumen through one of two sources: the 1818 Gothic classic by Mary Shelley, or the 1931 movie adaptation (or, truth be told, through Mel Brooks' Young Frankenstein). The latter group might not be aware of the love story the original contains, nor the chaos wreaked because of love withheld. Choreographer Liam Scarlett calls his production, "a story of betrayal, curiosity, life, death, and above all, love." This is Scarlett's first full-length ballet; at only thirty, creator of the acclaimed 2014 Hummingbird, among others, he's currently the Royal Ballet's artist in residence. Employing the talents of John Macfarlane's stage and costume design, David Finn's lighting and Finn Ross's projection design, this production is a feast for the eyes.
One of the benefits of attending the second night of a production is seeing the second cast. They were brilliant, to the last. In addition to powerful performances from Max Cauthorn and Lauren Strongin, as Victor Frankenstein and Elizabeth Lavenza, and Taras Domitro as The Creature, Julia Rowe and Angelo Greco delivered memorably as well. Act 1, set in late 18th century Geneva, allowed us to witness the metamorphosis of two young friends—Victor and the orphaned Elizabeth taken in by the Frankenstein family—who grow to fall in love. Cauthorn and Strongin paired wonderfully as young adults in love in a tender, lyrical pas de deux, replete with rapturous back arches, leaps, partnered turns that morphed into lifts. Both are dancing well beyond their rank—Cauthorn is in the corps and Strongin is a soloist—and surely promotions are imminent. (Please, Mr. Tomasson, promote Max Cauthorn now. Tonight. He's earned it.) **Editor's note on March 13th – Cauthorn's promotion to soloist was just announced! Yippee! Big congrats, Max!
As this story goes, the death of Victor's mother in childbirth throws a pall over the household on the eve of Victor's departure to medical school. There, at Ingolstadt University, the grieving Victor takes keen interest in his professor's lectures on the possibility of reanimation. Macfarlane's circular anatomy theater set is spectacular, period-specific, featuring an 18th century replicate electrostatic machine, with wires and tubes and such that emit staticky  pops and snaps.
One of the ballet's structural problems reveals itself around this time. At close to three hours, the production runs long. The fifty-minute first act has five scenes (and a prologue). Although the story delivered up to this point preps the audience nicely for what is to come, it might prove overlong to those anxious for the "real" drama to begin. Instead, ensemble dancing within each scene often seems presented to assure plenty of "ballet" and not just pantomime exposition. That said, a medical students' cavort was charming, and soon a quartet of solemn-faced nurses in long skirts joined them, assistants to the Professor (James Sofranko). It began to feel odd, though, within this academic, institutional setting. Some places, like churches, libraries, psych wards, don't lend themselves aesthetically to ballet. The presence of a cadaver splayed out behind the dancers on an observation table likely didn't help. And there is simply no way to watch someone dance with a dismembered limb or a brain in a jar without it seeming either creepy or hilarious, or a mix of both. Which may not have been the goal.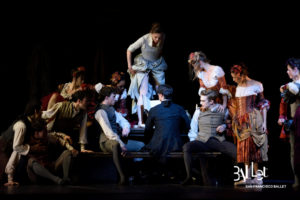 But finally, after a tavern ensemble frolic, the long awaited moment: Victor's return to the anatomy lab that stormy evening, his inspired efforts, the patched-together cadaver being raised to the skies as lightning flashes all around, the machine exploding in a pyrotechnic dazzle, accompanied by Lowell Lieberman's wonderfully dramatic commissioned score. It was spectacular, operatic in its intensity.
Taras Domitro, as The Creature brought to life, delivered an unforgettable performance. Costumed in an unearthly pale unitard with the to-be-expected stitches and gashes and blood speckles that worked brilliantly and showcased Domitro's superb form and musculature, he brought a nuanced vulnerability to the role. You could almost love this Creature. You're certainly stirred to pity at his plight, as Victor recoils in horror and rejects his creation. The Creature's "other-ness" was cleverly depicted in quirks: little head rolls, cocking the head in a not-normal way. We, as the audience, get to follow his evolution. In the beginning, he can hardly walk, but learns by observation and imitation. By the final act, he has discovered how to effortlessly fit in to a crowd of waltzing revelers, employing a "blink and you've missed him" ninja presence that rattles Victor terribly, who continues to reject this horror he's created. The power The Creature now holds is formidable—but what powers The Creature, in turn, is the childlike longing to be accepted, loved by his creator, to not be so alone.
The story doesn't end well, as you probably know (unless your reference is Young Frankenstein, which ends quite adorably). Victor's attempts to block out his deed and The Creature fail. The Creature's failed attempts at love and acceptance have curdled into maniacal rage. And yet, still the longing. In the final scene, Elizabeth's sorrowful pas de deux with The Creature (who has learned to perfectly imitate Victor's movements) is so poignantly danced by both, it breaks your heart to watch. So does the ensuing pas de deux between The Creature and Victor, desperate and grappling, overflowing with raw emotion. These two final pas de deux showcase Scarlett's choreographic brilliance, and the dancers at their best. Utterly unforgettable.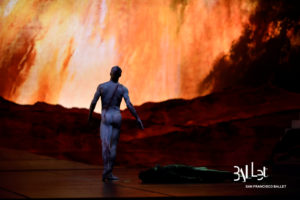 I loved this ballet. I didn't love it because I thought it was a perfect ballet and did everything right. I loved it because it was a great story to slip into, with fabulous sets, music and dancing, and the honest human—or inhuman—emotions conveyed. In its scope and appeal, it's very cinematic and, as such, holds tremendous potential to draw in new viewers, particularly males who might not otherwise consider going to the ballet on the grounds that it's too girly. Even my teen son told me, "now that's one ballet I would go to."
Do yourself a favor and check it out.