I am using "entranced" as description for the second time in San Francisco Ballet's digital 2021 season with the premiere of Danielle Rowe's Wooden Dimes. As the second of two world premieres, as well as the second dance film of the season, it invites comparison to Myles Thatcher's Colorforms. Both transported me. Entranced me.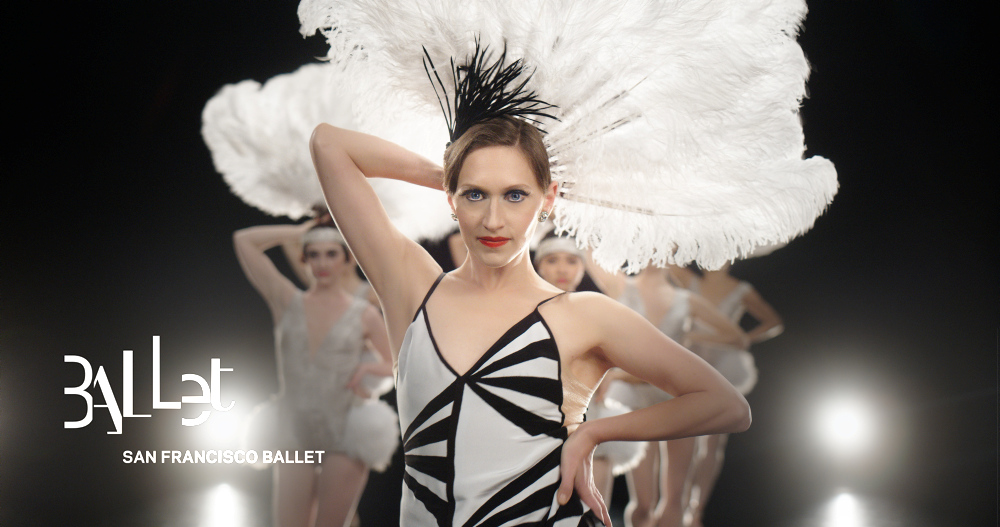 Wooden Dimes, Rowe's first repertory-season commission for the company, is an absorbing, fast-moving spectacle set in the 1920's theatrical world of vaudeville. The ballet's title alludes to the saying, "don't take wooden nickels," a warning to protect oneself from swindling and manipulation. Chorus girl Betty Fine (Sarah Van Patten) sees only shiny things in store, including her love for her husband, Robert (Luke Ingham), an ordinary man stuck in a dull, repetitive job. As Betty's star rises and Robert witnesses her compromised loyalty—Tiit Helimets is deliciously nefarious as the scheming boss man who's got the hots for Betty—he sinks further into insecurity, despair, all of which ultimately dooms the relationship. Such is the cost of fame. All of this is cleverly presented with cinematic economy and nuanced acting from Patten and Ingham, both sublime dancers, in two soaring pas de deux. Betty's fellow chorus girls deliver a sharp, fun ensemble dance, which includes an Esther Williams-like arial view of feet and moving legs in a kaleidoscope pattern, augmented by massive feather fans that are energetically flashed about. Betty's "bright, shiny objects" are personified in a duet by Madison Keesler and Nathaniel Remez, while Robert's "demons" are represented by the cool, sensuous moves of Dores André and Max Cauthorn. It all works splendidly.
Wooden Dimes was filmed onstage at the War Memorial Opera House during the week of December 8, 2020, under strict COVID protocols. The ballet had been initially intended, no surprise, as a live performance, but we all know what has happened to those kind of 2020 plans. Film, however, is a sensational medium for this ballet. "My appreciation for the art of filmmaking has developed tremendously throughout the creation of Wooden Dimes," said Rowe, who also directed the film. "I adore the necessity and value given to details, the ability to transform a moment and play in post-production, and the attention and forward thinking required to piece a story together cohesively."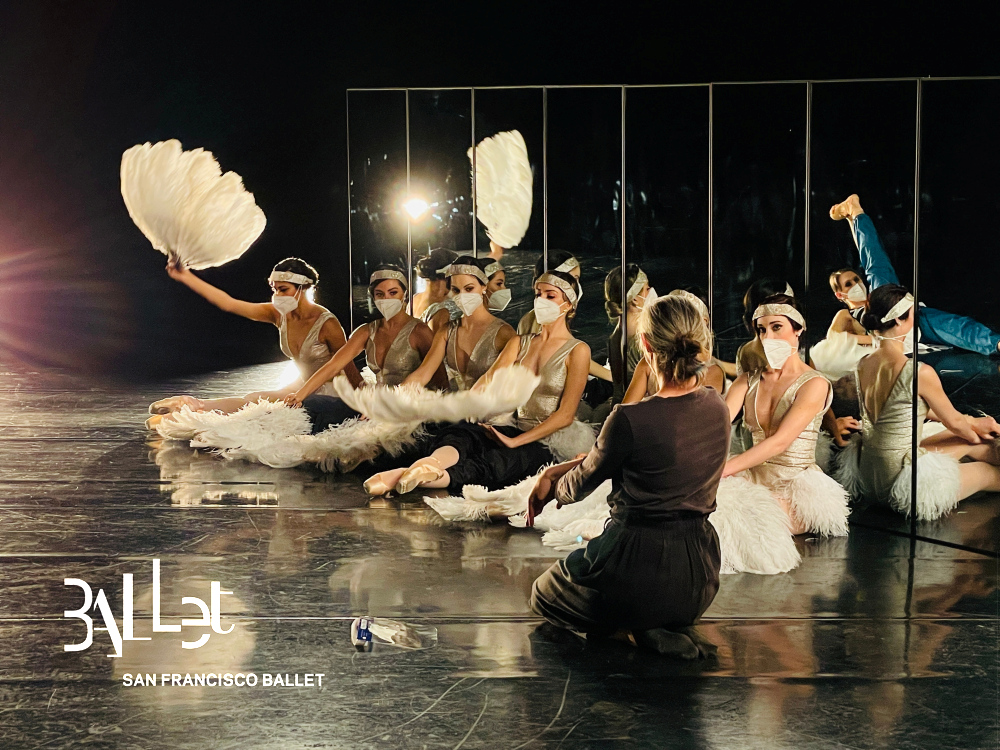 Director of photography Heath Orchard, working both in person and remotely over Zoom, gave us sensational cinematic closeups of Van Patten's face, those enormous blue eyes, theatrically lined and cherry-red lipstick, affirming her standout appeal from the other chorus girls. Contributing remotely to the collaboration, as well, were costume designer Emma Kingsbury, lighting designers Jim French and Matthew Stouppe. The music was another pandemic-era marvel, a commissioned score by James M. Stephenson, recorded individually at home by members of San Francisco Ballet Orchestra, and compiled, edited, and mixed by SFB music director, Martin West.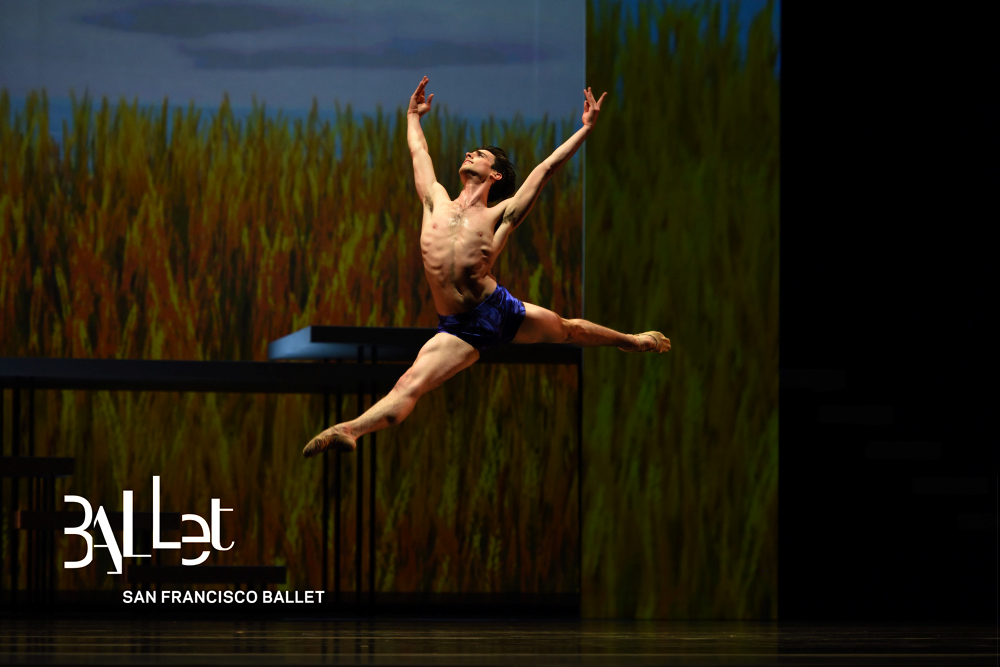 Program 3 includes Yuri Possokhov's Swimmer and Alexei Ratmansky's Symphony #9, both archival captures from March 2016 and May 2019, respectively. Swimmer, inspired by John Cheever's eponymous short story, brings audiences on a psychedelic multimedia journey through loneliness, love, and 1960s pop culture. It's a highly creative ballet that includes animated projections by Kate Duhamel, costumes by Mark Zappone, David Finn's lighting and scenic design by Alexander V. Nichols. The multimedia weirdness of it–dazzling in a live performance–doesn't present as magically via a streaming format. No matter; the dancing is still excellent. Use this unprecedented opportunity to enjoy the close-ups. Another big perk of a streamed performance: you can rewind and re-watch Joseph Walsh's soaring solos, as well as Lauren Strongin and Tiit Helimets' arresting pas de deux, to the growly croon of Tom Waits (whose songs are interspersed with Shinji Eshima's original score). Another "must watch again" was WanTing Zhao, whose sinuous duet with Walsh held me spellbound. I think I watched it four times in a row. Lastly, archival captures allow you to see dancers no longer on the roster, notably, Sofiane Sylve and Lauren Strongin. We miss you!
Opening the program was Alexei Ratmansky's "Symphony #9" plucked from his acclaimed Shostakovich Trilogy. George Tsypin's backdrop of grays and splashes of red, Keso Dekker's beautiful costumes and Jennifer Tipton's lighting all contributed to its final, pleasing effect. Jennifer Stahl and Aaron Robison stole the show with their haunting pas de deux, but the ensemble cast—21 dancers in all—made this a winner, my favorite among the archival captures presented so far this digital season.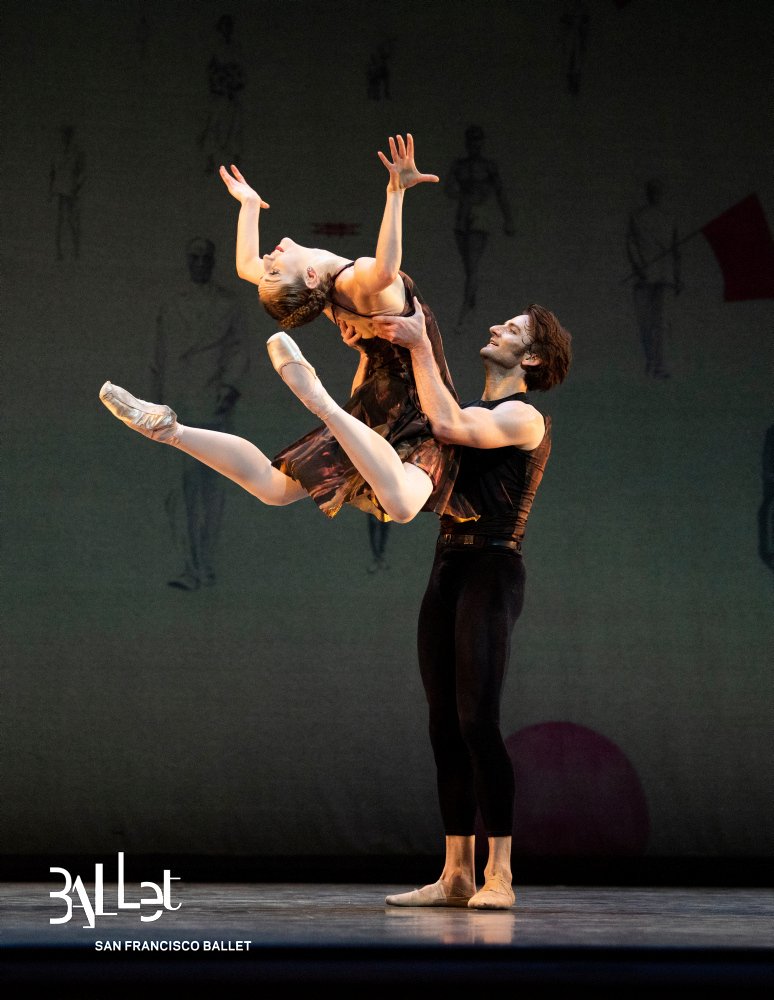 Ultimately, as in Program 2, this production will be remembered for its world-class, world-premiere film. There will be comparisons between the two. Which was better, Wooden Dimes or Colorforms? Impossible to say. Happily, they are both quite different from each other, both equally artful and memorable. Rowe wanted to tell a story and it worked. Thatcher wanted to gift us with color and patterns and the juxtaposition of dance in the museum and the studio, from a semi-lit stage to a soaring redwood forest. It worked. It breaks my heart that the San Francisco Ballet was unable to film a third, highly anticipated world premiere due to COVID challenges (Cathy Marston's Mrs. Robinson has been moved to the 2022 season) but it gives me the opportunity to reflect on the good fortune of having these two extraordinary and artful films, created in spite of nearly insurmountable challenges. A year ago this past weekend, the stages went dark, and the future for the performing arts seemed equally bleak. I am immeasurably grateful for what the San Francisco Ballet has been able to make happen for the 2020-21 season. These films are treasures that will forever reign in the repertory as The Ones That Saved Our Sanity During COVID. They gave us art, a necessarily different take on what, up to this pandemic, was onstage and live. It could have been so much worse.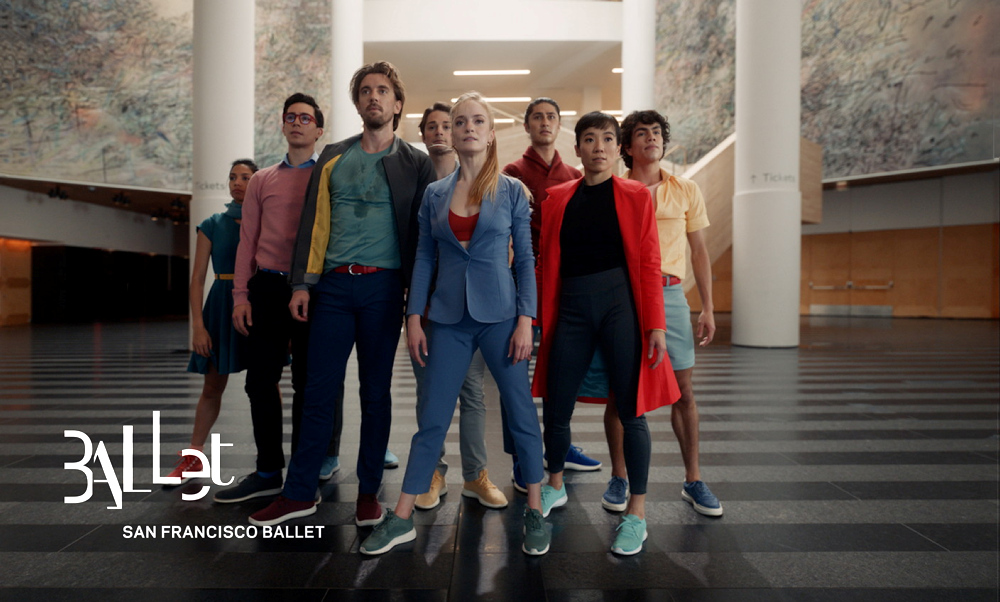 Program 3 runs through March 24th. Single tickets are $29 for 72 hours of streaming. Details can be found HERE.